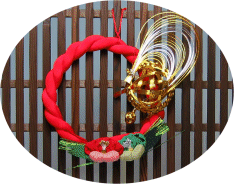 Items below are what might be called Japanese style wreaths as they are modeled after Shimenawa, a cord of rope made by twisting together strands of rice straw, which is hung over the front door of a house during New Year's holidays to ward off the evil spirits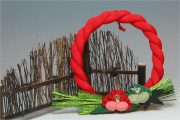 Enlarge Image
Japanese Style Wreath
Item #: SN1
Size: 9.8X8.2in (25X21cm)
Price:US$24.00
DISCONTINUED

Shochikubai....This wreath is decorated with pine, bamboo, and plum trees, a combination known as "sho-chiku-bai". Because pine and bamboo trees stay green all winter and the plum tree is the first to bloom in the chill of an early spring, sho-chiku-bai have , since the Nara period (710-784), come to represent strength, vitality, hope, and good fortune. For centuries, the trees have been planted together, incorporated into flower arrangements, employed as a design motif, and used decoratively for such auspicious occasions as New Year's and weddings.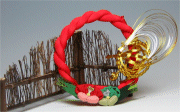 Enlarge Image
Japanese Style Wreath
Item #: SN3
Size: 11.8X9.8in (30X25cm)
Price:US$36.50
DISCONTINUED

Turtole.....There is a saying in Japan "a crane lives a thousand and a turtle ten thousand years."turtles too have been regarded as a symbol of longevity and bearer of good fortune.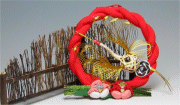 Enlarge Image
Japanese Style Wreath
Item #: SN2
Size: 9.8X8.2in (25X21cm)
Price:US$35.45
DISCONTINUED

Crane....In addition to Shochikubai, this one has a crane, which are regarded as auspicious birds and a popular symbol of longevity

If you would like to purchase more than one of a
particular item, please click on "Buy Now" link first and then update the quantity in the shopping cart page.

All prices are in US dollars
For details on payment methods, shipping rates and exchange policy, please click on the information link at the top of the page.
The color of the items in the pictures might slightly
differ from that of the actual items.