Japanese Restaurant Curtains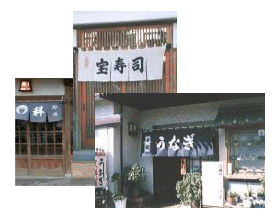 If you have been to Japan you will probably recognize these instantly. Yes! Noren curtains (and chochin lanterns) hang at the entrance of Japanese restaurants and izakaya (Japanese-style bar). See if you can find a noren with a print of your favorite food. If you own a restaurant, these items will definitely give it some flair!
This page is under contruction.
If you would like to purchase more than one of a
particular item, please click on "Buy Now" link first and then update the quantity in the shopping cart page.

All prices are in US dollars
For details on payment methods, shipping rates and exchange policy, please click on the information link at the top of the page.
The color of the items in the pictures might slightly
differ from that of the actual items.