Modern Geta Sandals
Modern Geta Sandals. The geta featured in this section are crafted in the same way as traditional wooden sandals, but the design has been modernized. (If you would like the traditional ones, please click here) They are curvy, slick, and - most importantly - they are cool! The thongs are a lot wider and softer to ensure comfort while the platforms are carved to fit your feet better. In order to accommodate the needs of people with large feet, extra large sizes are also being offered. These modern geta sandals may be worn by both males and females. Please have a look!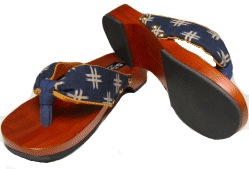 This page is under construction.
If you would like to purchase more than one of a
particular item, please click on "Buy Now" link first and then update the quantity in the shopping cart page.

All prices are in US dollars
For details on payment methods, shipping rates and exchange policy, please click on the information link at the top of the page.
The color of the items in the pictures might slightly
differ from that of the actual items.