Hime Daruma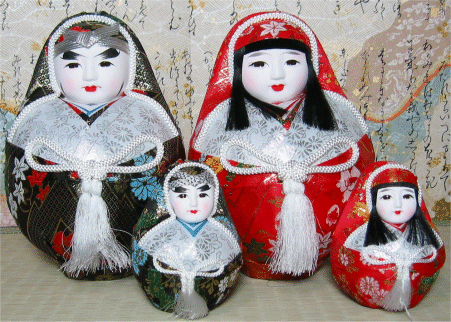 | | |
| --- | --- |
| This item is sold as a set of two(one black and one red)and comes in a box. | |
There are five different sizes available!

Size:
HDR1-A: Height 3.1in(8cm)
HDR1-B: Height 4.3in(11cm)
HDR1-C: Height 8.6in(22cm)
HDR1-D: Height 11in(28cm)
HDR1-E: Height 15in(38cm)

Price:
DR1-A $14.99
DR1-B $19.99
DR1-C $49.99
DR1-D $119.99
DR1-E $189.99

This item is sold as a set of two(one black and one red)
and comes in a box
If you would like to purchase more than one of a
particular item, please click on "Buy Now" link first and then update the quantity in the shopping cart page.

All prices are in US dollars
For details on payment methods, shipping rates and exchange policy, please click on the information link at the top of the page.
The color of the items in the pictures might slightly
differ from that of the actual items.